An inspiring movie for reconnecting childhood to the natural world
An urgent movement for a life that's healthier for people and the planet
- Andrea Faber Taylor
Watch the trailer
Watch the movie and subscribe to receive exclusive content and be part of this movement: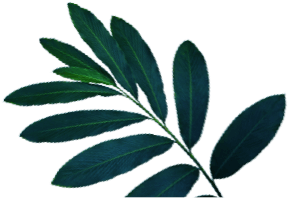 The Movie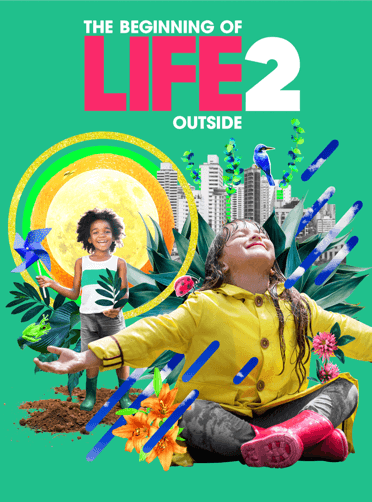 Genuine connections between children and nature can revolutionize our future. But is this discovery still possible in the world's major urban centers?
Scientific evidence indicates that a lack of contact with nature can contribute to physical and mental problems. In the new chapter of "The Beginning of Life," leading experts on the subject show how this connection can be part of the cure for the biggest challenges facing humanity today and the construction of a happier life with a greater level of well-being.
The film reveals that this concept has been transformative in several cities around the world that value and promote a greater connection with the natural world. The combination of science and action means a unique opportunity for a healthier future for humans and the planet.
Argument: Ana Lúcia Villela, Laís Fleury and Renata Terra Photography Direction: Janice D'Avila, David Reeks e Tomaz Viola Mounting: ​Renata Terra and Victor Miaciro Original Soundtrack: Arthur Decloedt Script and Direction: ​Renata Terra Executive Production: Flavia Dória, Juliana Borges, Mariana Mecchi, Mariana Oliva and Taís Caetano Post Production Supervision: Geisa França Produced by: Ana Lúcia Villela, Estela Renner, Marcos Nisti and Luana Lobo
where to watch it
Organize a screening
Public screenings scheduled on Videocamp must respect health protocols, avoiding social gatherings, with the following recommended guidelines: 1) held outdoors with viewers practicing social distancing; 2) for groups/families that are quarantined together. Organize a screening and download the support material for a transformative conversation after the movie:
ORGANIZE A SCREENING
What can you do to reconnect children and nature? Sign up to receive a step-by-step guide with tips and exclusive content from the Instituto Alana's Child and Nature program, and redesign the present and future of the planet. Join our movement!
Join our movement! SIGN UP
WHY IS THIS IMPORTANT ?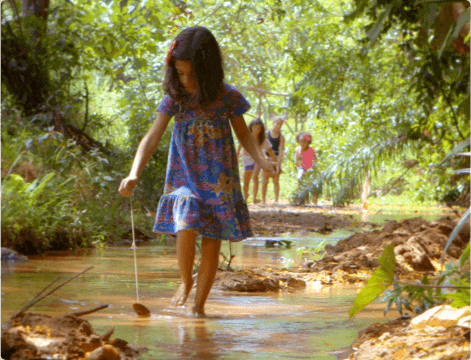 CHILDREN NEED
NATURE
Obesity, hyperactivity, sleep disorders, low motor skills and myopia. Being in nature prevents and improves many problems and is essential to the all-around health of children and young people.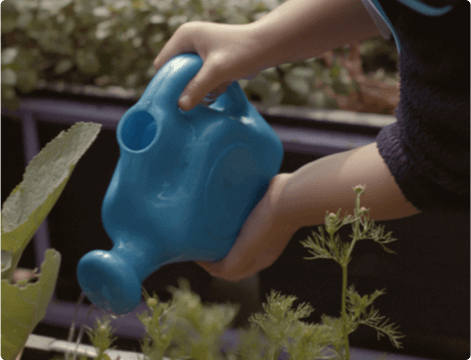 NATURE NEEDS
CHILDREN
It has been proven that children who interact with nature during childhood are more likely to become adults that are committed to the planet's conservation.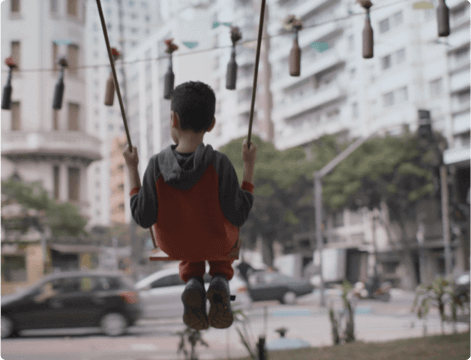 THE "OUTSIDE"
THAT WE WANT
Promoting contact between children and nature now in the daily life of cities is urgent to ensure a present and a future on Earth for us and all other beings.
CHILDREN NEED NATURE

NATURE NEEDS CHILDREN

THE "OUTSIDE" THAT WE WANT
Act Now!
A childhood that's richer in nature should be the responsibility of society as a whole. Here's what you can do now: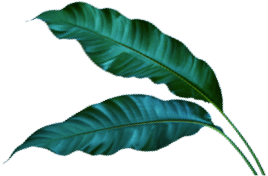 Who Does
QUOTES
" This film represents our commitment to promoting a reflection on the importance of nature for children's development. The connection to nature can be very close. A tree can be a source of learning, a place to play, and an inexhaustible source of discovery."
Malu Nunes, Fundação Grupo Boticário
"The time in which we're living is forcing us to rethink our relationship with cities and the importance of nature to our mental, physical and emotional health. When it comes to children - who have been the focus of our work for 25 years now - this connection is even more necessary. There is no possible future if this bond is not strong and very affectionate, and it is up to us as adults to nurture it and create conditions for it to happen."
Carolina Pasquali e Isabella Henriques, Instituto Alana
"In an inspiring manner and with scientific basis, the film shows how the relationship between children and nature is mutually beneficial. It is in this relationship that concern for the environment is born, that we see ourselves as part of the web of life and feel human."
Roberta Zandonai, Programa das Nações Unidas para o Meio Ambiente - PNUMA
"Playing outdoors leads to various lessons that prepare children for a happier and healthier adult life-- making them more conscious and prepared to take care of the planet. Because of all this, and the care taken with the production and the information contained in the film, we are very proud to be counted among its supporters."
Paula Perim, Fundação Maria Cecilia Souto Vidigal
"Babies are coming into the world, discovering life. Nature is the best and largest laboratory of experimentation for these little scientists. Investing in public, outdoor areas that promote movement, provoke the senses and facilitate diverse meetings is the ideal path to full development. This film enriches us with evidence of this importance."
Cláudia de Freitas Vidigal, Fundação Bernard Van Leer
"Ensuring children's right to direct daily contact with nature is a systemic challenge that requires a paradigm shift. This film tells us how the confinement of childhood was already a reality, and it serves as a reminder for society that it is essential to give children the chance to live a free, healthy childhood that is rich in nature."
Laís Fleury, Programa Criança e Natureza do Instituto Alana
"When I coined the term 'Nature Deficit Disorder' I never imagined it would help trigger a worldwide movement. This film is proof of the power of this movement and the urgent need to protect the sacred bond between children and nature."
Richard Louv, autor e co-fundador do Children & Nature Network
"In "The Beginning of Life 2: Outside," we find a powerful message for Latin America and the world: contact with a harmonious and sustainable environment from the beginning can have a profoundly transformative effect on the region's communities."
Lorena Guillé-Laris, Fundação FEMSA
"This film features content that not only enriches our impact programs, but also contributes to our campaign to raise awareness regarding the great relevance of a healthy environment in children's proper development."
Eduardo Queiroz e Sofia Diaz, United Way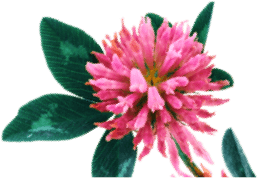 CONTACT